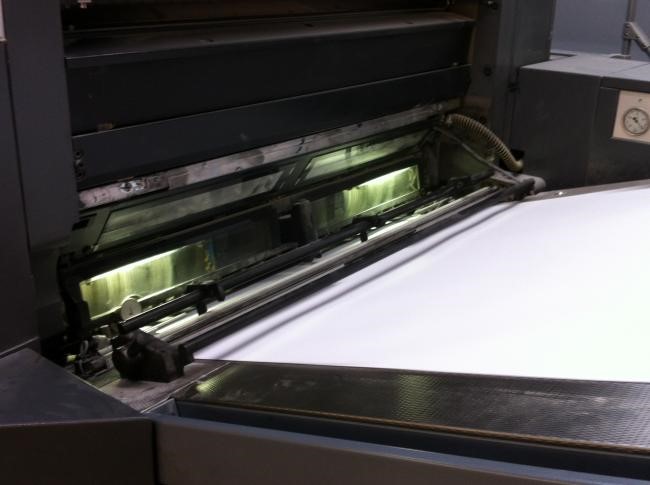 Efficiency
Nearshoring location *Low-cost location, though EU-regulatory environment and day to day physical oversight possibility
Software controlled worklflow *Transparency, reduced floor space, reduced work-in-process inventory.
Single press-mashine type operation *Beneficial maintenance, technical commonality, economic training of stuff. 
Bulk standardized paper procurement *Ordering paper in large numbers with huge discounts
Minimized lead times due overlap production schedules *Downstream work station starts progress while upstream works keep proceeding.
Fast ink up  *Automated color preset data at the control stations reducing makeready times and paper waste.


Sustainability
FSC, REACH, PSO, ISO9001, ISO14001 comformity *Our certifications provide a credible link between responsible production and consumption of products. 
Strong governance principals *Aduprint consider all the interests involved in the business; those of our clients, vendors, shareholders, our employees and the society in which the company operates.
Financial strength *Conservative balance sheet profile with a modest level of investment risk and solid liquidity.
Risk management *We maintain facility and equipment insurance, as well as professional liablity insurance for production risks. We hold a strong credit insurance covering accounts receivible. We apply currency hedging options for handling foreign currency transactions risks.  


Expertise
Qualified Staff *Management qualified of higher education of mechanics, economics combined with international career records. Leading colleagues having a diploma as print industrial mechanics. Our associates have a serious printing industry- or manufacturing experience
Language skills *We provide fluency in English and German, and a dedicated clerk for each of our customers.
Identification of core capabilities *Occuping small niches in the market for pre-positioning with low price and high quality. 

Most popular products:
Books in perfect binding, PUR and/or sewing,

Children Books in Hardcover

Educational Books with perforation

Magazines in saddle stiching

Periodicals 

Catalogues with language plate changes

Brochures with flaps

Maps

Table-Calendars

Brief history:
Located in Budapest, Hungary, AduPrint ltd has a 60 years long history with it's predecessors, the international well-known Rózsavölgyi és Társa Publishing and the Zenemű Kiadó Publishing. The company was reorganized and changed its name to Aduprint in1992.  The existing facilities were built in 2003. The plant has been fully equipped with the latest technologies in the last couple of years   

Reference: 
Our enterprise customers are in the first place book publishers, but also corporations from various industries ranging from finance, engeneering and manufacturing to media and design. As much as 60% of our sales is related to border-crossing commerce, where Germany and Austria are the main recipiences.
As result of our market nicher stragegy prevailing on the field of distribution chain by discounter groceries, today half of our products are being sold at internationally well-known german and austrian grocery chains.   
 
Staff

50 members of staff create the team of our printing house. They bring their best talents and work to achieve our vision to be a first-class printing enterprise offering highest product quality, top service, and effectiveness. Our staff are constantly looking for continuous improvement aiming at providing the customers with quality services, making contributions for promoting international culture as well as enhancing the development of printing industry.
Managing colleagues
 

Zoltán Tóth
Managing Director
This email address is being protected from spambots. You need JavaScript enabled to view it.
Balázs Réti
Managing Director, Foreign affairs
This email address is being protected from spambots. You need JavaScript enabled to view it.  
Miklós György
Factory Director
This email address is being protected from spambots. You need JavaScript enabled to view it.
Kata Pap
Production 
This email address is being protected from spambots. You need JavaScript enabled to view it. 
Zoltán Kellner
Cost Estimator, Domestic Sales
This email address is being protected from spambots. You need JavaScript enabled to view it. 
László Balás
Technical Manager
This email address is being protected from spambots. You need JavaScript enabled to view it. 
Environment certificates
We commit to the protection of environment and optimize utilization of resources, conserve energy, and reduce pollution. We prefer recycled materials and provide responsible production and consumption of forest products. 
 Aduprint Ltd. maintains the ISO MSZ EN ISO 9001:2015 and MSZ EN ISO 14001:2015 awarded by DIGART Hungary ltd.
In 2011 Aduprint has successfully acquired the FSC-cerificate. FSC certification provides a credible link between responsible production and consumption of forest products, enabling consumers and businesses to make purchasing decisions that benefit people and the environment as well as providing ongoing business value.